McFab farm stay will surpass your biggest expectations. You will have the entire farmhouse to yourselves, bring along the whole family as there are 4 bedrooms, a big garden, vegetable patch, and even a boma in an old klipkraal to make a bonfire and celebrate any occassion without any disturbance. This is pure freedom away from city life, lots of fresh air, free roam animals and the luxury of making as much noise as you like. Arrange that long awaited family get together, have a reunion around the bonfire, and watch the sunset from the porch with a glass of Bubbly. This space is ideal for hosting the Bachelors or Bachelorette`s weekend parties. We cater for campers as well. Please email me for details at info@mcfabfarmstay.co.za or whapp @082 928 5358 for rates.
This farm stay is ideal for the sports entuisiast who wants to bring his cycling group. Arrange your own stage races as the routes cover approximately 400 km. Hiking and cycling routes have been marked clearly and includes double tracks, and gravel. Starting point is from the house itself.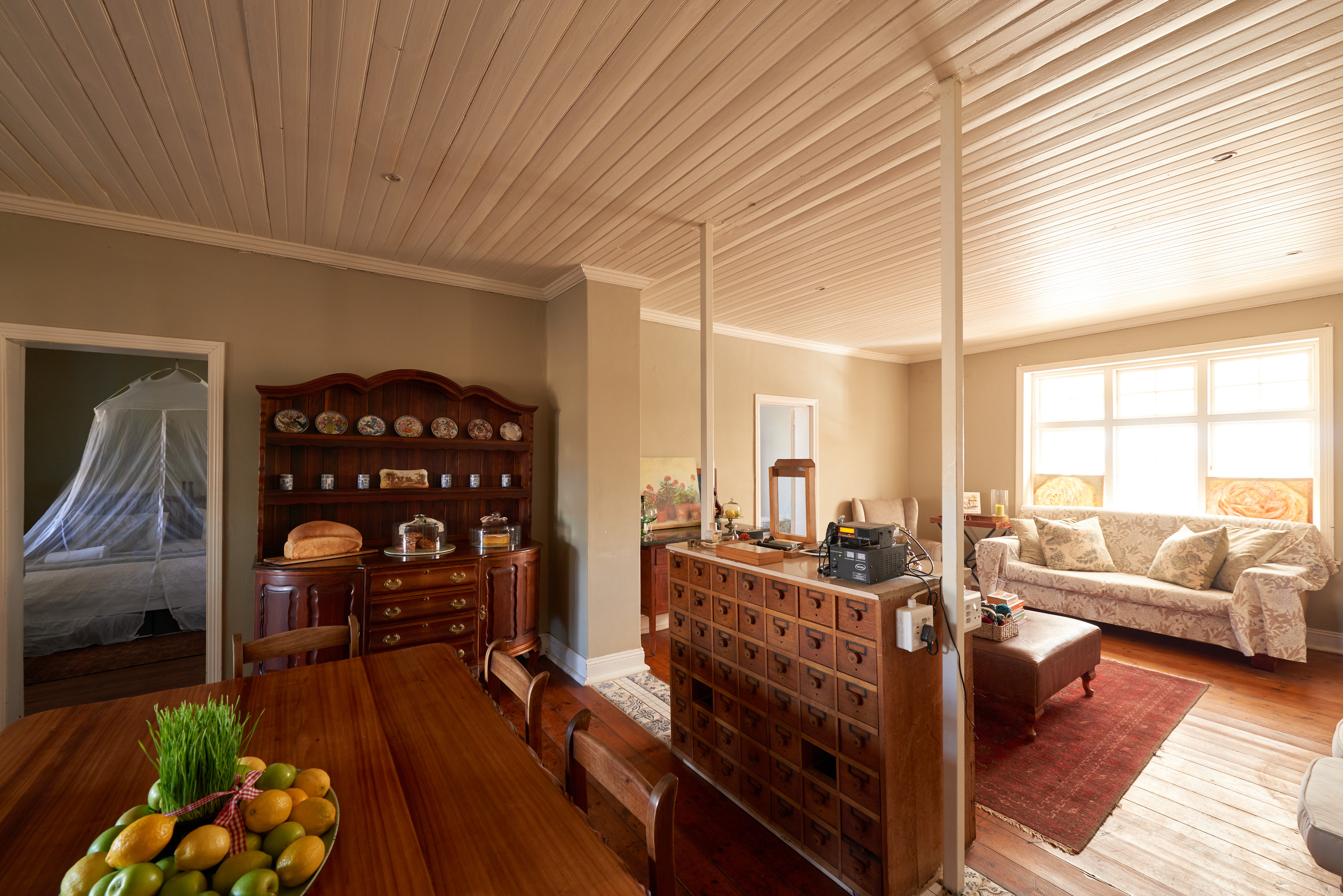 The space.
Sleeping arrangements can be adapted to guests liking and single beds made Kingsize.The house sleeps 11 people or 4 couples in 4 bedrooms, and have 2 bathrooms, kitchen, dining room, scullery, and porches on two sides. Bedroom 1= double bed, bedroom 2 = 4 single beds or a kingsize and 2 single beds, bedroom 3 = queensize bed, and a single bed, bedroom 4 = 2 single beds or a kingsize.
Extras:
If you would want to bring your dogs along, let's just have a talk about the precautions and extra costs involved.

Other things to note
The house is off the grid which means you can give your hair a break and let the sun and wind do their job, please no hairdryers or straightening irons. Please turn off the lights when leaving a room and in the event that the solar power runs out, there is a backup generator. When using the gas geysers please turn on hot water first and slowly add cold water. Our security protocol involves an early warning strategy which includes beams all around, a hand held two way radio to talk to a small group of farmers, as well as a fixed radio in the sitting room which is connected to a control room with a reaction team standing by. There are 3 panic buttons provided for the house which is strictly for emergencies. This house also features a french drain, please understand that is the reason for one-ply toilet paper.
Reviews from Airbnb
"An undiscovered gem. This historic old home sits wedged into a hillside above a serene Free State valley. The original kraal, an ancient eucalyptus tree, veggie gardens and a grove of poplar trees surround this near 200 year old farmhouse. The house is comfy, well-equipped and an entertainers delight. A large kitchen, big scullery, long dining room and a massive lounge are surrounded by the spacious rooms. The best part is the patio, facing the view, with a built-in bench and rattan lounge suite. At the back of the house, off the dining room is a fire basket for chilly or windy nights. Nina & Isak are salt-of-the-earth, kind, generous farmers with a heart for family, history and the land. Isak keeps the old house in tip-top shape with a brilliant off-grid system (solar & gas) and Nina brings such warmth to the home with her special touch, knowledge of the area and care for our experience. The area also offers lots of Anglo-Boer war ruins, breathtaking vistas and a 2-day hike that we will go back one day to do. All in all, this was a great find. If you want deep rest, to spend quality time with loved ones, explore Afrikaaner history or even hike without much elevation, (all within 2,5 hours of Joburg) this place is perfect. We will definitely be back."- Blake Sept 2020
"Nina is an excellent host!!! She provided the right level of help when required and was easily reachable. The whole house was tastefully put together, the deco was on point and amenities made for a pleasant stay. The farm was very peaceful, we felt safe and would definitely come back again. Not to mention the stunning backdrops for lots of social media posts."- Nthutukho Sept 2020
"Nina is a great host. Super responsive and friendly. We absolutely loved being on the porch watching over the hills and sheep from sunrise to sunset. The folding hills take your breathe away. Perfect getaway for a big group."- Suvania Nov 2020